Where to Download Free Funny Sound Effects?
Sounds can help people interact, deliver information, emphasize artistry, release stress, and a lot more. They can be instrumental, classic, hip-hop, cinematic, funky, and a lot more. Sound effects are often used in television shows, live performances, animations, video games, films, and other media. Today, more and more people add funny sound effects to TikTok to make their videos more eye-catching and attract people to like video or follow their TikTok account. On that note, let's find out the best websites that provide sound effects for funny videos.
Websites for Free Funny Sound Effects:
Mixkit
Mixkit is our first tool. You'll find the perfect sound to put a smile on your dial here in this collection of funny sound effects. Choose from funny cartoon sounds, hilarious laughter, or quirky noises, great for Youtubers to use and download. All of sound effects are free to download and ready to use in your next video or audio project.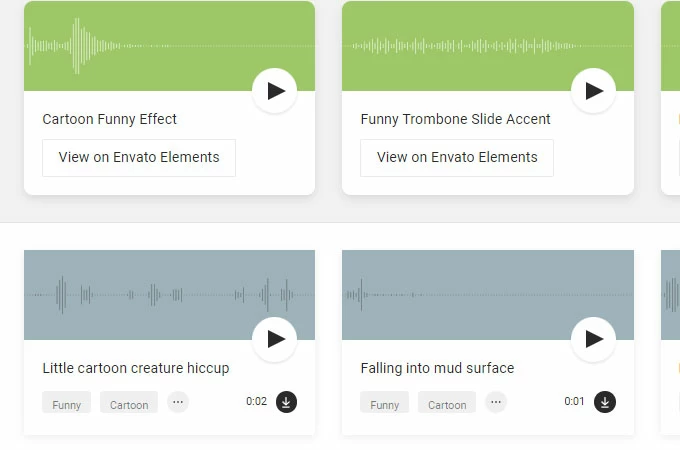 Pros
Supports downloading without registration.
Cons
It is not a website that specializes in sound effects, so the classification will not be very detailed.
TunePocket
TunePocket is another site for funny sound effects download. It provides over 2000+ royalty free sound effects, including funny screams, laughs, hits and falls, clown horns, alerts, punches, fails, game over jingles, bloopers, and more. Download unlimited funny sounds to use in personal or commercial projects, including video, vlog, social media, YouTube, film, and more. All downloads are available in 24 16 Bit 44.1 KHz WAV format and will work in any video editor. You can easily convert WAV files into MP3.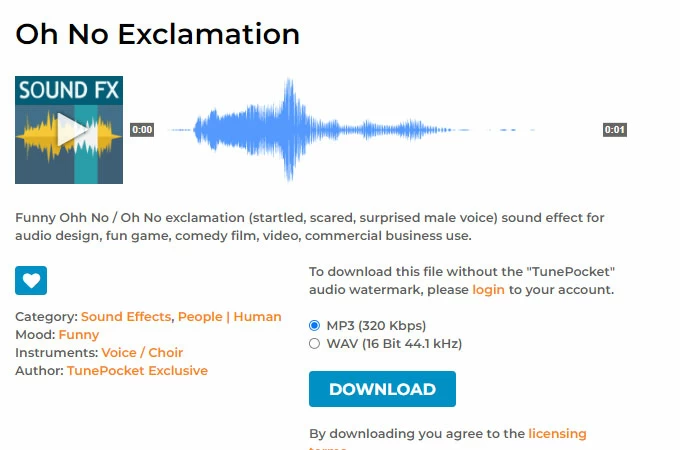 Pros
It provides categories such as "Trending of the week", "Most Popular" and "Most Recent".
Cons
Users need to register to get unlimited access.
Videvo
Videvo is a free stock video footage that offers funny sound effects for comedy. This includes man crying, cartoon snoring, laughing, running footsteps, and a lot more. You can use all these sound effects for your projects and media.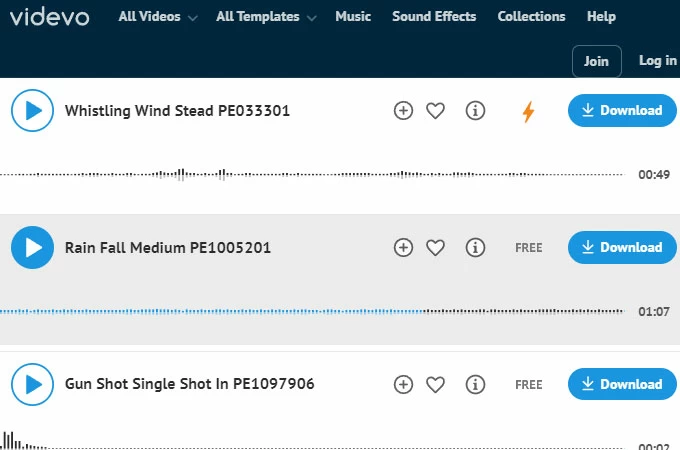 Pros
It allows you to access the Premium Library.
Music division is detailed.
Free of charge icons on each sound file.
Cons
Users need to sign in or register to download sound effects.
Orange Free Sounds
Orange Free Sounds is an alternative funny sound effects free download. Whether you need comedic sound effects for a comedy sketch, a funny video, or a prank, Orange Free Sounds has you covered. The website offers a diverse selection of amusing sounds, including laughter, silly voices, cartoon noises, comedic music, funny animal sounds, and much more. These sound effects can add a touch of humor and lightheartedness to your projects and create a fun and engaging atmosphere.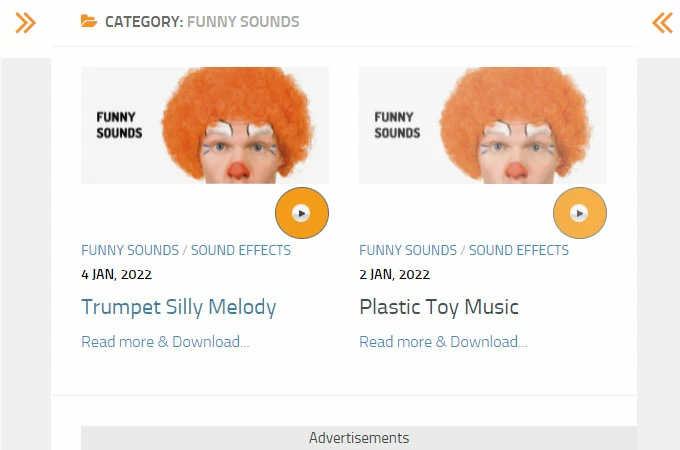 Pros
Detailed audio information including size and quality data.
No hidden costs or need to sign-up.
Cons
There are annoying pop up ads.
Some of them are for private use only.
StoryBlocks
If you want to make sure your audience is laughing while watching your videos, get funny sound effects from StoryBlocks. Storyblocks Audio is a website that offers a wide range of comedy and funny sound effects for various creative projects. Whether you are a filmmaker, video editor, animator, game developer, or content creator, this website provides an extensive library of sound effects to enhance your projects with humor and amusement.
The website allows users to search for specific comedy and funny sound effects, providing an organized and user-friendly interface. Users can explore different categories, browse through a vast collection of sound effects, and preview them before making a selection. The sound effects available on Storyblocks Audio are professionally created and designed to add comedic elements to videos, animations, podcasts, games, and more.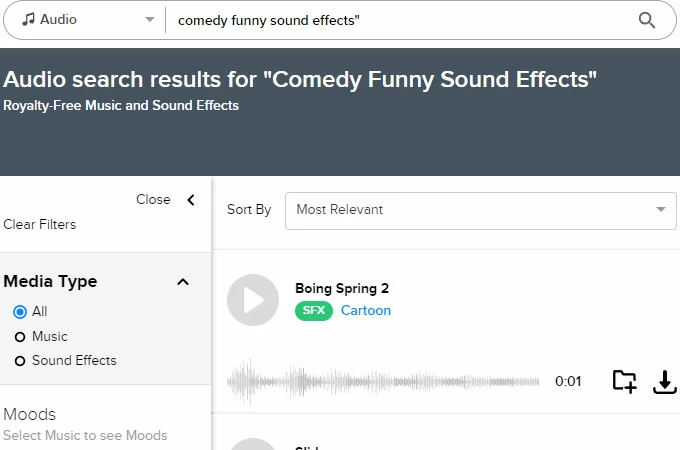 Pros
Sound effects can be exported as MP3 and WAV formats.
Cons
Need to sign up to unlock unlimited download.
Other Solution
Meanwhile, if the funny sound effects that you wish to add to your project are not downloadable due to an internet error or bug, a screen recorder named iToolShare might help you. This is a professional, yet straightforward and easy-to-use screen recorder for all platforms.