6 Best Screen Recording Software for Windows
Screen recorder, screencasting software, and screen capture software are different names for the same tool that allows you to record a computer screen's output. While screen capture tools differ in price and functionality, most share a number of features, such as:
adjustable video frame
cut-and-paste editing options
unlimited recording time
Which screen recording tool should you use to make an effective video tutorial, create an online course, market your business to online customers, or even record a new maneuver in your favorite game? We researched and compared the 6 best screen recording software for Windows to help you find an ideal fit for your specific needs and present them for you here.
Top 1. iToolShare Screen Recorder
iToolShare Screen Recorder is an best HD screen recorder for Windows to record any kind of screen activity, capture high-quality video with different audio sources from system sounds, microphone voice or both, record webcam.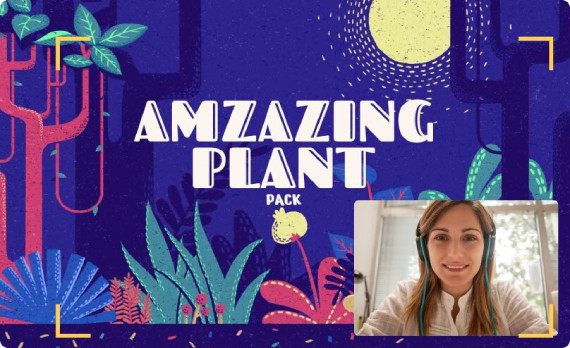 Pros
Can record two videos at the same time: a screencast and a webcam video
Records a narration
No time limits for recording
Can record screen and audio simultaneously or separately
Saves video in HD and supports multiple formats
Allows scheduled recording
Mouse display in the recording
Cons
Trial version limits recording time to 3 minutes
Price: $30 for a lifetime license. Free trial.
Top 2. Camtasia
Camtasia is a feature-packed tool for detail-oriented enthusiasts. It allows you to record video and audio one after another, combining the results afterward. Camtasia is quite flexible in terms of using animations and video effects and adding overlays. What differentiates it from other screen capturing software is that it allows creating and adding quizzes and interactivity in videos.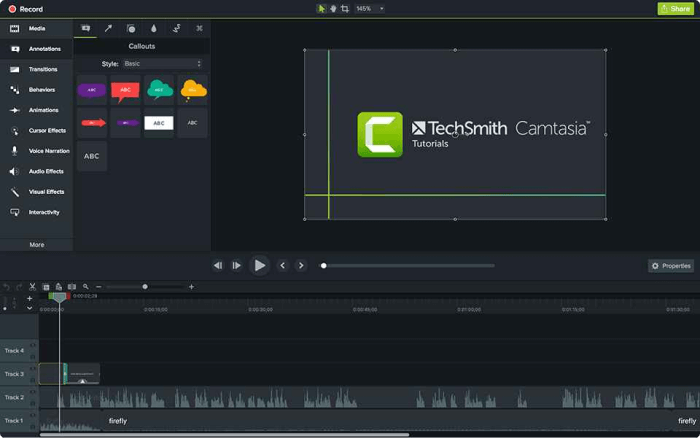 Pros
Incorporates a webcam
Audio, video, and cursor tracks can be edited separately
Imports existing videos, music, photos, and PowerPoint slides
Adds captions, callouts, and quizzes to your videos
Frame-by-frame editing
Has a library of royalty-free music and sound effects
Cons
One of the most expensive screen recorders
Reported to slow down on large and heavy projects
Busy multi-track interface
Price: $249. Free 30-day trial.
Top 3. Filmora Scrn
Filmora Scrn is a trustworthy screen recording software that is especially loved by game players. It allows you to capture fast-paced scenes (up to 60 fps for Mac) while simultaneously recording a webcam video. It also has a basic video editor that allows you to improve the look of the video and tutorial features, which can help direct attention to the main items on the screen.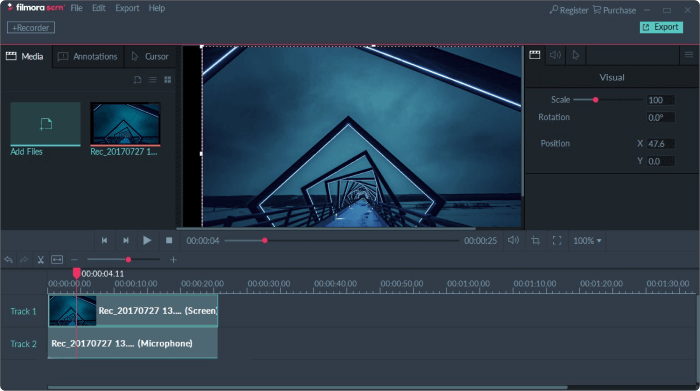 Pros
Can record from your computer and webcam simultaneously
Imports over 50 file formats and exports in multiple formats
Picture-шn-picture mode
Frame rate from 15 to 120 FPS
Supports HD and even 4k recording
Cons
Lacks advanced editing features
Noticeable performance impact in games
Reported to lag and freeze when editing
Price: $19.99 for 1 year or $29.99 for a lifetime license. Free trial.
Top 4. Movavi Screen Recorder
Movavi Screen Recorder is an easy-to-use screen capture tool that enables you to record computer screens, capture webcam and audio, save recordings as videos and GIFs, and take screenshots. You can upload records to Google Drive or YouTube and share them with your audience via social networks.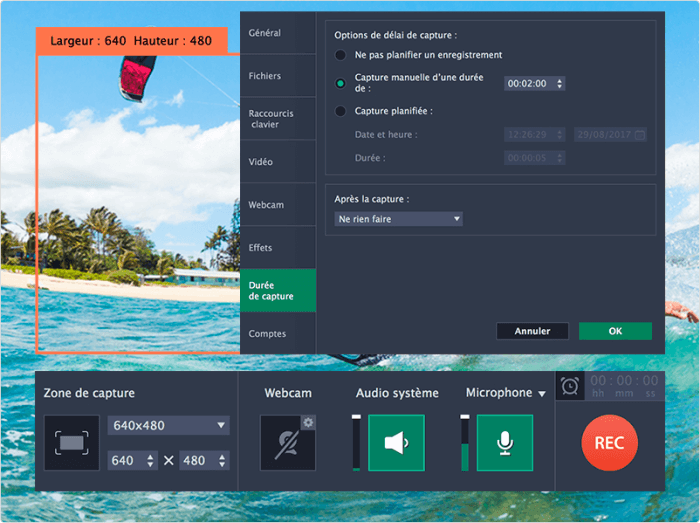 Pros
Incorporates webcam
Can record screen and audio simultaneously or separately
Saves video in HD and supports multiple formats: AVI, MP4, MOV, and MKV
Takes screenshots and edits them
Allows scheduled recording
Mouse display in the recording
Cons
Has no video editing tool; must use a separate program
Trial version limits recording time to 5 minutes
Reported to have periodic crash issues
Price: $39.95 for 1 PC. Free 7-day trial.
Top 5. My Screen Recorder Pro
My Screen Recorder Pro is a feature-packed screen capturing tool that records anything on the computer screen, including the entire desktop, menus, cursors, and video with sound. It also lets you record your webcam or mobile screen in high-definition quality simultaneously with the desktop screen. Besides industry-standard AVI, WMV, and MP4, the screen recorder can save video in WebM, perfect for distribution or uploading to your website or blog.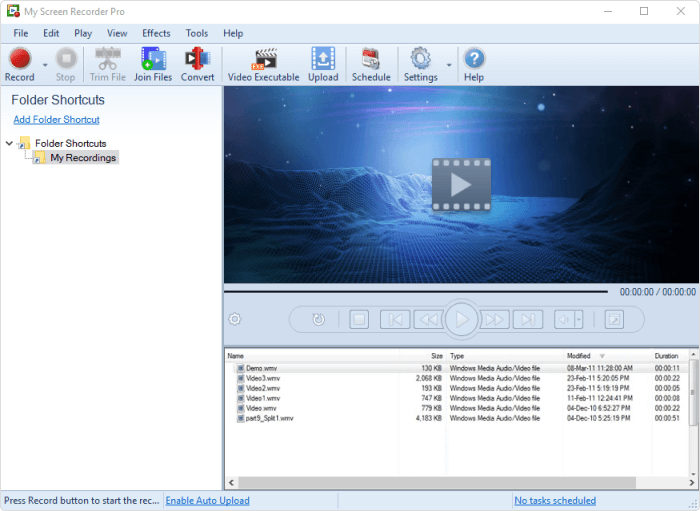 Pros
Can record webcam or mobile screen, along with desktop screen recording
Video output to AVI, WMV, MP4, and WebM formats
Allows scheduled recording
Auto-upload recordings to any FTP account
Can securely monitor the screen in hide mode
Cons
Has limited editing options
No animations and transitions
Price: $129.95. Free feature limited trial.
Top 6. FlashBack
FlashBack is a full-motion-based screen recorder with a simple, handy interface. You can capture your screen, along with webcam and mic, and then make the recording better with a built-in video editor by adding captions, arrows, images, and highlights.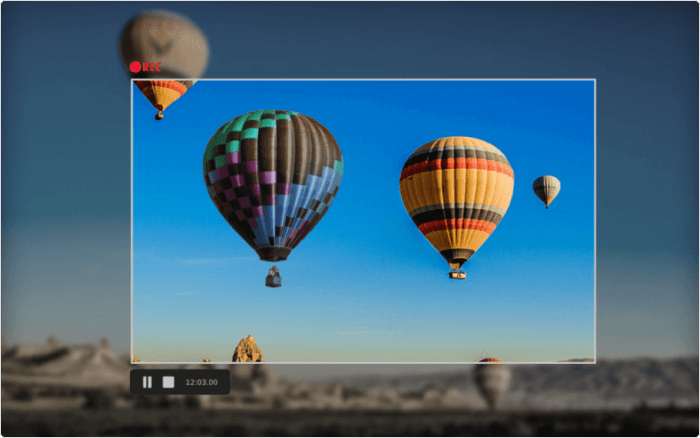 Pros
Records multiple monitors
Incorporates webcam
Allows you to add distinctive and custom watermarks
Quick upload to Youtube, FlashBack Connect or export as MP4, GIF, WMV, QuickTime, AVI, and Flash
Offers zooming and panning options
Cons
Difficult to modify existing demos
Allows you to import files only in FBR format
Does not track the movement of windows in use
Price: $49 for 1 PC. Free 30-day trial.